Coles Solicitors Closure – SRA Intervention Advice & Support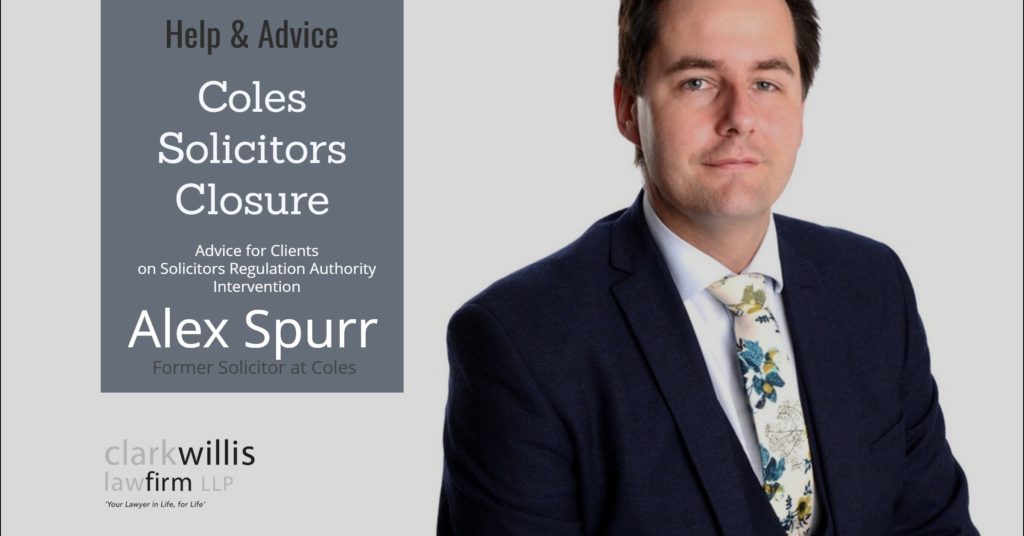 As a former Director and Head of the Wills & Probate team at Coles Solicitors for many years, it is extremely saddening to see that Kingly Solicitors Ltd, trading as Coles Solicitors, have been intervened by the Solicitors Regulation Authority (SRA).
This is a deeply distressing time for clients and the staff at Coles, many of whom I have worked alongside for a number of years and, through no fault of their own, find the firm they work for shut down with immediate effect. I have spoken to a number of my former colleagues and it is testament to their integrity as individuals that their main concern at this time is the wellbeing of their clients. Naturally they will be worried over what is happening to their matters and the safety of Wills and other documents stored with Coles.
Having acted for a number of these clients personally over the years, some have contacted me directly to ask what an SRA Intervention means, worried over what is happening to their matters and the safety of Wills and other documents stored with Coles.  Given my historic involvement with the firm and to assist my former colleagues, I wanted to put some information out to support those affected.
What is an Intervention?
In an intervention, the SRA closes a solicitor's practice immediately to protect clients. This means that Coles can no longer act for its clients and the SRA takes all ongoing matters, stored documents and clients money to keep safe and return them to clients. The offices are all closed and normally the telephone numbers will be diverted towards the Intervention Agents.
Anyone currently instructing Coles does not have to worry that their papers and money are secure.
Intervention Agents have been appointed and they have taken all of the files and documents for safe keeping. They will then start the process of reviewing what they have and contact clients in priority of urgency. Due to the sheer scale of the firm and number of client matters this may take several weeks before people are contacted.
I wish to stress that the SRA Intervention is due to the investigated actions of a small number of the new Kingly Solicitors Ltd owners and that the solicitors, support staff and former owners of Coles Solicitors have not been involved in any activities subject to the intervention and are now actively seeking new roles.
What do I need to do?
If you have an ongoing matter or Wills and other documents stored with Coles, you will need to appoint new solicitors to finalise your matter or to store those documents on your behalf. That firm will need to acquire your current file or documents from the agents.  If you would like our assistance in retrieving your matter or documents then please do not hesitate to contact me.
You can contact the Intervention Agents directly to provide your instructions and authority to them to transfer your file or documents to your new chosen law firm. You will need to write or email them with copies of relevant identification documents. Once they have located your file or documents they will then send these to you or your new solicitors.
Gordons LLP, 1 New Augustus Street, Bradford, BD1 5LL. Email: kingly@gordonsllp.com, Tel: 0113 227 0360.
How long will it take to get my file or documents?
I have been speaking with Gordons LLP about urgent matters and have been advised that approaching court hearings and property transactions that have exchanged contracts will be prioritised over other matters. It is likely to take several weeks before files and documents can be located and transferred to new firms to continue acting.
Due to these timescales it may be possible to undertake some work whilst the file is obtained and we would recommend clients engage a new law firm as soon as possible to understand their options.
Where can I get more advice & support?
Whilst I fully appreciate that this is a stressful time for Coles clients, I do wish to reassure people that safety of client matters and documents is the Solicitors Regulation Authority's prime concern and that documents are safe. I also take the opportunity to extend the invitation to anyone affected by the intervention, who may be worried to contact me and the Clark Willis team for advice and reassurance.
 If you are a client and are worried, please call me on 01325 281111 or email a.spurr@clarkwillis.co.uk.
For more information on a SRA intervention, please see the SRA website https://www.sra.org.uk/consumers/faqs/faqs-for-consumers/#solicitorsclosed