Divorce & Separation During Covid-19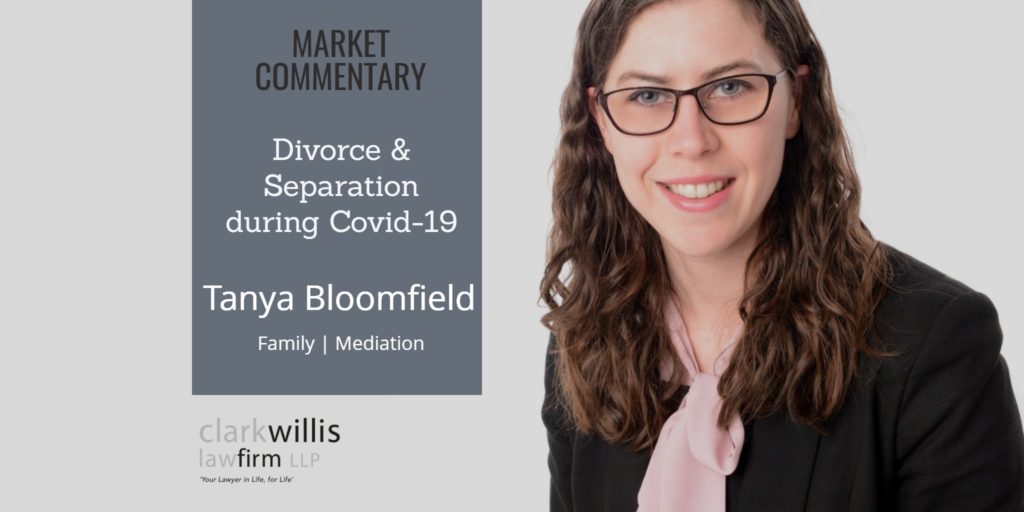 As we move into the 4th month of the Covid-19 pandemic in England, Tanya Bloomfield, Head of Family Law at Clark Willis, looks at the impact that it is having on divorce and separation.
Fundamentally, the ability to start the separation process has remained available throughout the pandemic but the restrictions on movement, financial impact and those self isolating because they have contracted the virus have caused a number of issues with the process.
The courts, already operating with a slight delay in dealing with applications and paperwork prior to the pandemic, have had those delays compounded. To address this, the courts  have been adapting their operations and embracing the digital world to a greater degree, for example accepting electronic applications and scanned signatures, to ensure that cases can be progressed as swiftly as possible. From the early days of the pandemic, the ability of the courts to progress matters and hold digital hearings has notably improved.
Our Family team has also continued to harness technology to support our clients with telephone or video call client meetings, remote working capabilities and even hosting Mediation meetings digitally through our dedicated Mediation service, meaning that we have remained fully operational during the coronavirus pandemic.
The effect on the economy, being furloughed or redundancy possibilities have caused increased concern over the financial implications of separations and what will happen in the short, medium and long term. For those people facing uncertainty, a degree of flexibility to revisit financial negotiations if there is a sudden change in financial circumstances of one party may mean a Separation Agreement may be appropriate until the pandemic is over and a full Consent Order secured through the court to finalize a financial break.
There are also added complications of how to manage children from separated households in light of the government guidance. Schools starting to return have added yet more considerations on childcare during the pandemic and the varied approach to this from individual schools and across different age groups means parents are having to be a little bit more flexible. With further changes to furlough arriving from July and the summer holidays starting, there may be more adjustments required.
The lock down has also been difficult for those couples already experiencing strain in their relationships and is likely to lead to a number of new separations as we emerge from current restrictive provisions. Considering separation comes with many questions about how to separate, what happens with finances and/or children and our specialist solicitors are still working during the pandemic and available to help you understand your financial position and options.
We have the largest Family Law team in Darlington, including Collaborative solicitors, Resolution members and qualified Mediators, so you can have peace of mind that you are receiving the best advice from expert negotiators.
We can meet with you confidentially by telephone, Facetime, Teams or Zoom. We will also explore whether you might be entitled to Legal aid. We also offer fixed fee initial consultations and pay-as-you-go services.
Contact us on 01325 281111, visit www.clarkwillis.com or email family@clarkwillis.co.uk directly for further information and to speak to a member of our team confidentiality.