No.7 – Dinosaurs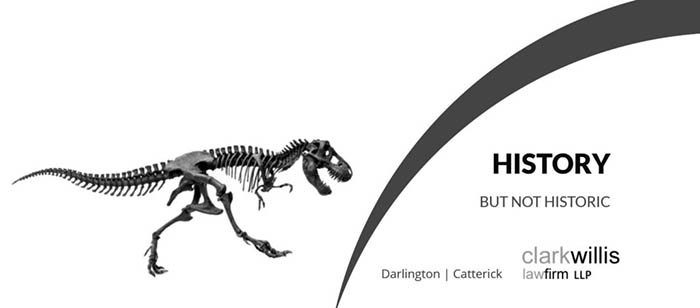 No.7 – Dinosaurs
Whilst longevity can bring experience, solicitors are often criticized for their failure to adapt to modern times, retaining a pompous attitude and a failure to recognise legal practices are a business offering services like any other, albeit of a legal nature, and cannot rest on their historic reputations to acquire new customers.
As a firm we are fortunate enough to have a long history and we have been assisting customers with their legal needs across Darlington, the Tees Valley , County Durham and North Yorkshire for nearly 50 years. Our stability means our customers can have peace of mind that we have the experience to handle their matter, but we recognise that continuously need to evolve in how we operate as a business and deliver our legal services in a modern, professional manner.
We have invested heavily in updating our IT infrastructure to make us more robust, increase our digital capabilities and allow greater flexibility in our working capabilities. This has placed us in a much stronger position to continue to operate during the current Covid-19 pandemic where our solicitors are able to continue to work remotely. In April, the next part of our flexible working programme arrives with the deployment of a  new phone system across providing us with a suite of features for flexibility.
In the summer of 2019 we introduced a strategy to recruit the legal talent of the future across our management and core areas of law, Family & Divorce, Residential Property, Private Client and Dispute Resolution.  Two new Partners joined us in 2019. Alister Jones in the Property team bringing significant experience in property sale & purchases, but also one of the few solicitors in the region experienced in equity release. Alex Spurr returned to Darlington from one of North Yorkshires leading regional firms bringing a wealth of experience in Will writing, Lasting Powers of Attorney and estate administration and increases our capabilities to undertake complex trust work and inheritance tax planning for business and agricultural clients.  We have recruited into our Property and Family team and also have one of the rising stars of  Family law joining us later this month as we continue to cement ourselves as the largest Family law team in Darlington.
Some of our readers may have also noticed a change in our marketing at the end of 2019, commencing with the introduction of our Zebra and continued use of our black and white colour scheme emphasising 'clarity.' We have a new website in development that will continue to enhance our brand and more importantly, enable clients to access digital resources and have increased capability to instruct us online.
Whilst we have a strong history as a legal firm, we are continually seeking to improve our services and take on board the feedback from our clients to ensure that avoid becoming legal dinosaurs and remain the first choice of legal provider for our customers.
To find out how we can help you during the Covid-19 pandemic, please call your local office, email enquiries@clarkwillis.co.uk or visit us at www.clarkwillis.com.