No4 – Clear Pricing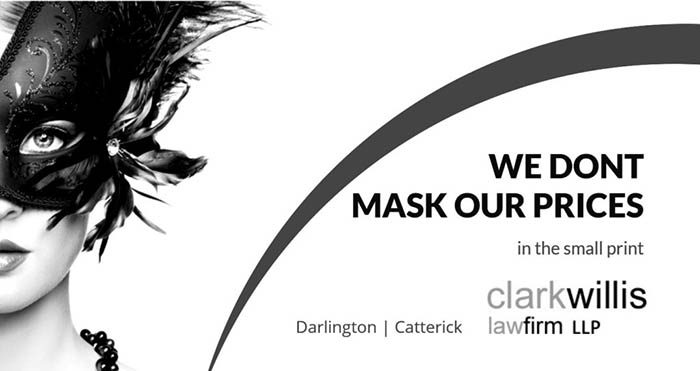 "No4 – We Don't Mask Our Prices"
Those have been following our series of monochrome images will understand that our fundamental aim is Clarity. This flows through delivering our technical legal expertise with clear advice at clear pricing, meaning we are the clear choice for personal legal services.
'Clear Pricing' means just that – You know what you will pay and when.
Work we undertake on a fixed fee basis, such as Will writing or Residential Property Sales & Purchases, is as the name suggests fixed. You know exactly what you will pay at the outset and additional costs won't come out of the woodwork after you have signed up to use us.
Those matters that we operate under an hourly rate charge, such as private Divorce or Dispute Resolution (Court Litigation)  incorporate an accurate estimate at the outset based upon your circumstances and those costs are then regularly reviewed to ensure we can advise you of any change in circumstances.
Our regulatory body, the Solicitors Regulation Authority, include certain legal services that law firms must display prices for on their website to assist client to make an informed choice over who to use. Think Go Compare for Lawyers.
Whilst fundamentally this is a good thing for people searching for a solicitor, it makes no allowance for value, which is wholly different from price, but also allows room to list a base price or exclude certain items that may make that quote seem more competitive but leads to all those dreaded extras in the small print once you have decided to go ahead.
Take Residential Property Sales or Purchases (Conveyancing)  for example. Some firms provide online quotes, 24/7, like we do. You can see a price after putting in you details and make the decision to instruct that firm only to find that additional fees are then suddenly added for bank transfer fees, identity checks, because you are buying a leasehold property etc etc – and the list goes on.
At Clark Willis we believe in clarity of fees, being upfront and honest, and our online conveyancing quote is clear. It is fully inclusive of everything that you have told us and is the price you will pay unless anything on the property changes. We believe that clarity of our prices is part of our value – alongside great service and legal expertise of course!
If you are reading this and you are in the market for buying a new home then do get a quote from us online to see how competitive we are, but do remember that you can always contact us directly to speak to one of our property team.
The same applies across our entire service range. We are happy to speak to people directly about our prices and a number of our matters include initial complimentary  appointments in order that we can fully understand your needs before advising you of your options, with clear costs.
So whether you are moving home, wanting a new Will, thinking of Divorce or have any other legal need, get in touch with us to find out what the cost may be, but more importantly – what the value is.