No5 – Happiness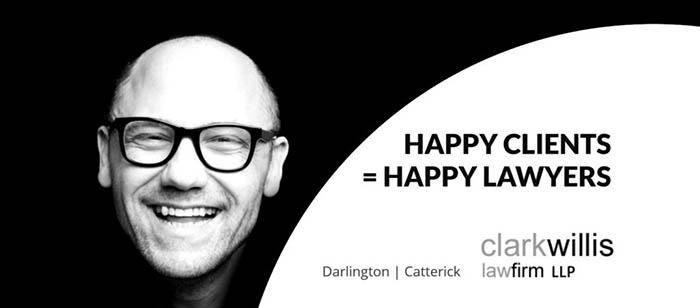 At Clark Willis Law Firm we take customer satisfaction extremely seriously and we are only happy lawyers when we have happy clients.
The marketplace for personal legal services is very competitive and a dissatisfied customer has a number of alternative providers to utilise the next time they require legal help. You can have the best technical knowledge but if that cannot be utilised to a client's advantage and packaged in a service that delivers, then customers will not feel loyalty to that firm. When we engage with a new customer we have the ethos that that customer will enjoy the experience of using us compared to our competitors, coupled with our legal expertise,  that they will continue to return to us for any future legal issues.
been great and has sorted all our matters professionally and efficiently. We will be using Clark Willis for any future legal matters. Their service has always been exceptional.
Every client is sent a feedback questionnaire to complete with the opportunity to reflect on the service and a random selection are directly contacted by a member of the senior management team to gain further insights and ensure we are delivering the high service level we strive to achieve. Whilst most solicitors will seek feedback from customers, especially those that are Lexcel accredited (the Law Society's Mark of Quality) it is the proportion of highly rated reviews, coupled with an unusually low number of complaints received from customers, that sets Clark Willis Law Firm apart from many of the competitors.
Excellent customer care, professional service and they kept me fully informed throughout the process of buying and selling my properties
Despite the rave reviews we are modest, we know we can do better occasionally and that no matter what we do, sometimes 3rd parties we work with mean that we can't keep everyone happy, or we simply get it wrong. We are human. We would love a perfect 5* average rating across our review platforms but let's be honest, that would be exceptionally rare and perhaps a little too good to be true. In the world of fake reviews 5* across the board would be miraculous so we will settle for a range of 4.6/5 to 5/5 averages across our review sites but we will always look for areas where we can improve.
Using a law firm, especially at a time of distress or crisis, such as divorce, personal injury or following a death, can be a daunting experience and sharing your experiences can help people make an informed choice.
other solicitors were not confident they could get the land registry to split our deeds. Excellent communication throughout. Will be using them again. A*
We are only happy lawyers when we have happy clients.
If you have a problem and no one else can help I know sounds like the A team right? Well your not wrong these people have helped me out before and helped me again so if you have a problem see these people. 5 Star
For those of our clients reading this who haven't yet left us feedback, either positive or constructive, on Google Reviews then please do so as not only can we reflect, adapt and improve where necessary, you can also help other legal service users appreciate the service we provide to our customers.
Thank You