Solicitors for the Elderly – What does it mean?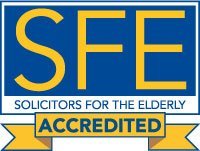 Some of our literature refers to the fact that our Wills, LPAs, Tax & Trust team includes members of Solicitors for the Elderly (SFE) but for those of you who are perhaps not involved in the legal or financial world the organisation name itself, and more importantly the reasons for choosing SFE members for legal advice, may be largely unknown. Being part of a select group of law firms in Darlington with SFE members (only Clark Willis, Latimer Hinks and Hewitts) we think it is vitally important to explain why, for legal issues involving those in advancing years, a SFE member should be a preferable choice.
Who are Solicitors for the Elderly?
SFE was founded in 1996 and set out to be a specialist group to help, support and make a difference to older people. It has now grown into a national organisation of over 1500 lawyers all committed to its founding principles. It is a not for profit organisation to meet the needs of its members, so that they can provide good quality legal advice to older and vulnerable clients, their families and carers.
Why use a Solicitors for the Elderly member?
SFE is a national association of independent lawyers who specialise in older client law. As specialists, SFE members are also trained in older client care so that they are able to take into account any difficulties both mental and physical which can affect older and vulnerable clients and are aware of the health and social problems that people may face.
SFE members will provide independent advice, which is in the best interests of older or vulnerable clients, respecting their dignity and understand their need for a holistic approach to problem solving. All advice given is confidential. They will endeavour to follow a plain English policy ie they will always communicate in easy, understandable language and will explain any necessary legal terminology. Their wealth of experience and training will help to put people at their ease when dealing with complex, life changing issues.
Our solicitors who are members of SFE:
Are specialists in advising older and vulnerable clients on legal matters
Are fully qualified solicitors, barristers and chartered legal executives who have all undertaken additional specialist training in older client law
Have spent a substantial amount of their time working with older and vulnerable clients
Have gained the Older Client Care in Practice Award which is accredited by SJF (Skills for Justice) a government body which shows that they have the required additional skills to be able to advise and support older and vulnerable people
Follow a strict code of practice
Are committed to providing affordable, good quality legal advice
Are regulated by their professional bodies such as the Solicitors Regulation Authority
Keep their knowledge and skills up to date by undertaking regular training
What sort of legal matters do members deal with?
Solicitors who are members of SFE , including ourselves, undertake the following types of work:
Wills, Estate planning, tax planning, trusts and probate
Mental Capacity issues: Powers of attorney, Deputyships, Court of Protection
Advanced Directives (often known as Living Wills)
Care funding including asset preservation
Deprivation of Liberty safeguards
Abuse issues
How can we help?
You can be confident in speaking to our solicitors that you, or your elderly relatives, are receiving experienced advice. Often this involves working alongside your financial adviser to ensure that the relevant expertise is brought into play where necessary and a holistic approach is taken.
Our initial appointments are complimentary and our clear, fixed pricing for any legal matters you may then choose to instruct us in, means you can have peace of mind that accessing the right advice will not cost you earth and tackle the myth that taking advice from solicitors is expensive. If we can help you, your elderly relatives or someone you are perhaps a carer for, either get your affairs in order or deal with pressing issues, such as financial abuse or moving into residential care, then contact your local Clark Willis office (Darlington or Catterick Garrison)  and ask for one of our trusted team.
For more information on SFE, please visit their website.