Love Thy Neighbour? Not During Covid-19 Necessarily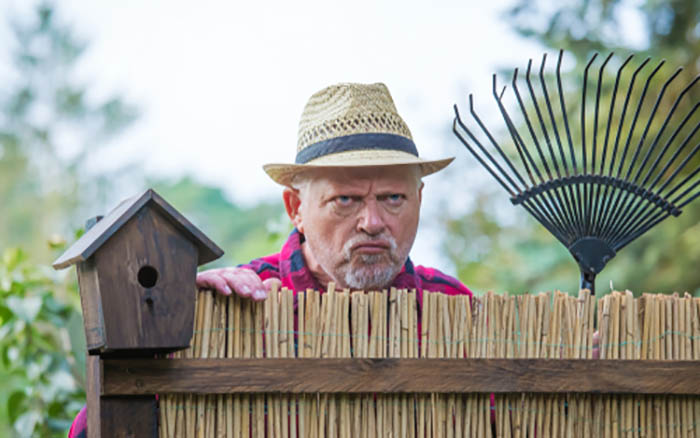 Neighbours. Everybody needs, or would like, good neighbours.
During the Covid-19 lockdown, we have seen a noticeable increase in enquiries from clients in dispute with their neighbours.
It stands to reason that a large of amount spent at home coupled with feelings of unease or anxiety about the pandemic could magnify an otherwise minor issue or irritation.
Neighbour disputes can encompass a wide range of issues from overhanging bushes, parking wars, boundary disputes or access issues, through to anti-social behaviour and harassment.
How to Resolve Disputes
First and foremost, we would recommend that you speak to your neighbours informally in an effort to resolve any potential issues at an early stage. You may achieve more with a cup of tea and a biscuit than you can with a legal letter!
It should be remembered that you still have to live next door to each other whilst disputes are ongoing. This can be incredibly stressful for both parties. Selling your home or moving may be an option, however you would have to declare any neighbour dispute, access or boundary dispute to a potential buyer as this is a standard enquiry in conveyancing transaction.
Mediation can also be a very effective method of short circuiting a dispute, particularly if the right mediator is selected, one who is able to think outside of the box and focus the minds of the parties on achieving a mutually acceptable solution.
Unfortunately, there are situations in which the parties are either unwilling or unable to agree a solution and the input of lawyers becomes necessary. It should be said that the potential cost of pursuing a neighbour dispute through the courts can be eyewatering and the potential financial risk to the parties could be significant, particularly if you are the unsuccessful party!
If you are intent on pursuing legal action against your neighbours, it is crucial that evidence gathering is carried out an early stage. The type of evidence required will vary according to the nature of the dispute. A firm of solicitors with strong experience in such cases, together with expert counsel, can advise fully to what evidence will be required and also in respect of the strengths and weaknesses of the respective cases.
Costs and Funding
In terms of funding, unfortunately the vast majority of neighbour disputes are excluded from legal aid funding and would therefore have to be funded privately. It is certainly worth checking any policy of home insurance to see whether there is Legal Expense Insurance (LEI) within the home insurance policy, which may provide cover to you for you depending on the disputes. Charges are normally on a  time spent dealing with your dispute, although a fixed fee may be agreed at the outset or for initial stages to seek a resolution swiftly.
It is essential to understand the possible costs of any dispute and factor this into any decision to pursue or defend a dispute as it is easy for costs to mount up over points of principle when a compromise could solve the dispute sooner.
An Englishmen's (and Englishwomen) home is his castle and should be a place of sanctuary, but where neighbours actions or inactions are a cause of action, we would recommend that you contact a solicitor an early stage to discuss the merits of the case, strategies for early resolution and the potential cost to enable you to make an informed decision.
Contact our trusted Dispute Resolution team at your local office today (Darlington 01325 281111 | Catterick 01748 830000) email enquiries@clarkwillis.co.uk or visit www.clarkwillis.com for more information.